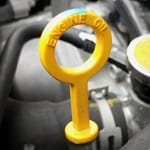 Have you heard of synthetic oil and what it has to offer New Bern, NC drivers? Although more expensive, the list of benefits associated with synthetic oil is quite long. Plus, you will likely not need to change your oil as often if you make the switch.
Synthetic oils are made of molecules that are all the same size, which is not the case with conventional oil. This helps it protect your engine and keep it running smoothly. Synthetic oil will also keep your engine running cleaner, something that can increase the longevity of your vehicle.
A synthetic oil resists breaking down better than conventional oil. It can also handle both higher and lower temperatures, helping to protect your car year-round. If you are using your vehicle to tow heavy objects, synthetic oil can help you defend your engine from strain.