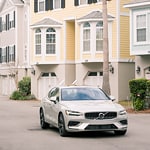 The Volvo S60 is a sleek, stylish vehicle that boasts an impressive list of features. With the help of our car buying guide, not only will you learn about what the interior looks like inside this beautiful car, but also what benefits are available to drivers. The following details are meant to educate buyers on all aspects of Volvo's design and functionality in order to make your decision easier!
The car interior features a sleek design that is second to none, with the added bonus of seamless technology. The seats are incredibly flexible and comfortable, as well as being built from materials that offer both warmth and comfort. The interior is roomy and will be able to accommodate both front and back passengers.
The exterior of the car offers a number of advantages that could prove beneficial to many drivers. For one, the design is sleek, stylish, and unique. In addition, this model has been specifically designed with safety in mind.